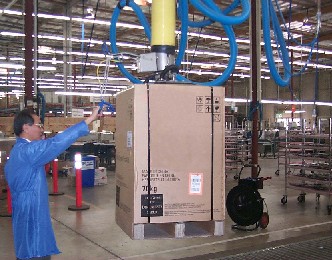 | | |
| --- | --- |
| | SouthBay 2 HP - The SB-2 HP High Profile has a fixed turntable speed of 8.5 rpm with an on/off switch. Press once to start, again to stop. |
| | |
| | SouthBay 2 LP - The SB-2 LP Low Profile comes standard with a variable turntable speed of 0-10 rpm, also with and an on/off switch. The SB-2 LP also comes with a loading ramp for pallet trucks. |
| | |
The SouthBay 2 series are semi-automatic, turntable style wrapping machines designed for entry level businesses who wish to reduce the risk of employee injury (due to hand wrapping) and wish to obtain better economical usage of the hand grade stretch films currently used by the business.
SouthBay machines have a braking system on the film dispenser that determines how much stretch is obtained and consequently how tight the load is wrapped.
A counter-balanced film carriage holds standard 18" x 1500' hand wrap. The operator is required to raise and lower the carriage manually as the turntable spins, but it can be left at any given elevation for reinforcing wraps or manually roping the film around the load.
Key Benefits
Economical - Film delivery system yields up to 60% stretch using the same hand wrap you currently use. Hand wrapping typically obtains approximately 15% stretch.. A 20" film carriage is available as an option for machine films.
Durable -

All welded structural steel

Capacity - Handles 60" x 60" (max) loads weighing up to 3,500 pounds (standard).
Height Adjustment - Adjusts for various load heights (up to 74" for HP 78" for LP maximum standard).
Portable - Forklift portable base design with lift tubes for easy machine transport.
Power - Requires 115 volt, single phase, 60Hz.
Warranty -

SouthBay machines are warranted for one (1) year from the date of delivery

.

| | |
| --- | --- |
| Name | |
| Title | |
| Company | |
| Address | |
| E-mail | |
| Phone | |