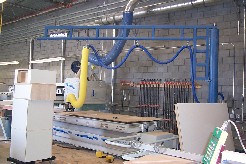 UniMove Installation on Gorbel Freestanding Jib Crane
UNIMOVE VACUUM LIFTING SYSTEMS by NOVATECH
Providing ergonomic solutions to manual lifting situations, eliminating injuries and Workman Compensation claims and improving productivity.
Our systems are made up of two major components:
A UniMove Vacuum Lift System to lift loads up to 1000#

An ergonomic Gorbel Workstation Crane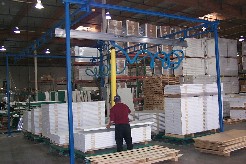 UniMove installation on Gorbel Freestanding Bridge Crane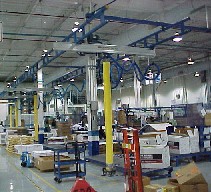 UniMove installations on Gorbel Ceiling Mounted Bridge Crane
UniMove and Gorbel equipment is manufactured in the USA. All common replacements parts are in stock for immediate shipment.
The UniTech patented valve system allows the loaded or unloaded unit to remain suspended at any given elevation within its lift range, giving the operator hands-free control when needed to perform other tasks or accurately place the load under free-float conditions.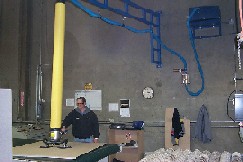 Typical system components include Motor Starter, Vacuum Pump & Platform, Filter Assembly, Crane, Lift Tube Assembly and Suction Foot.